Abul Khair Group Job Circular 2022 is published on the daily jobs portal bdjobs.com and focuses on careers at BD Jobs. About the company: Abul Khair Group is a recognized leading industry group in Bangladesh.
If you are interested in Private Organization Jobs 2022 and Abul Khair Group Job circular 2022, this is a good choice.
You can view all information including job details. The application process, date of issue, application date, and more can be found on the bdgovtservice.org website. Apply today!!
আবুল খায়ের গ্রুপ চাকরির বিজ্ঞপ্তি ২০২২
You must read the Abul Khair Group Employment Circular 2022 to fully understand every aspect. This is because all information about the route is available on our website.
Therefore, you need to visualize the recently published BSRM workgroup work. Therefore, we have provided a circular image of the company below. Read the notice and understand it carefully, so you must gather and prepare the necessary documents for your application.
 Company Job Information
Company Name:
Abul Khair Group
Post Name:

In-charge – Quality Control
Territory Sales Officer (Consumer Goods Division)
এ্যাসিস্ট্যান্ট মার্কেটিং অফিসার (এএমও)
Management Trainee Officer – Brand

Published Date
30 June 2022
Walk-In-Interview
04,16,21 July 2022 
Number of Vacancies: 
04
How To Apply 
Follow Job Circular Image
Age Limit
Follow Job Circular Image
Educational Qualification
Follow Job Circular Image
Experience Requirements
Follow Job Circular Image
Salary
Follow Job Circular Image
Job Category
Private Company
Job Location
Anywhere in Bangladesh
Job Nature
Full Time
Job Source
Online Newspaper
Other Benefits
 As per Company Policy
নতুন নতুন নিয়োগ পাবেন এখানে
নতুন চাকরির খবর পেতে যুক্ত হন
Company Information
Company Name
Abul Khair Group
Company Type:
Private Company
Official Website:
https://www.abulkhairgroup.com/
Abul Khair Group Job Circular 2022 Image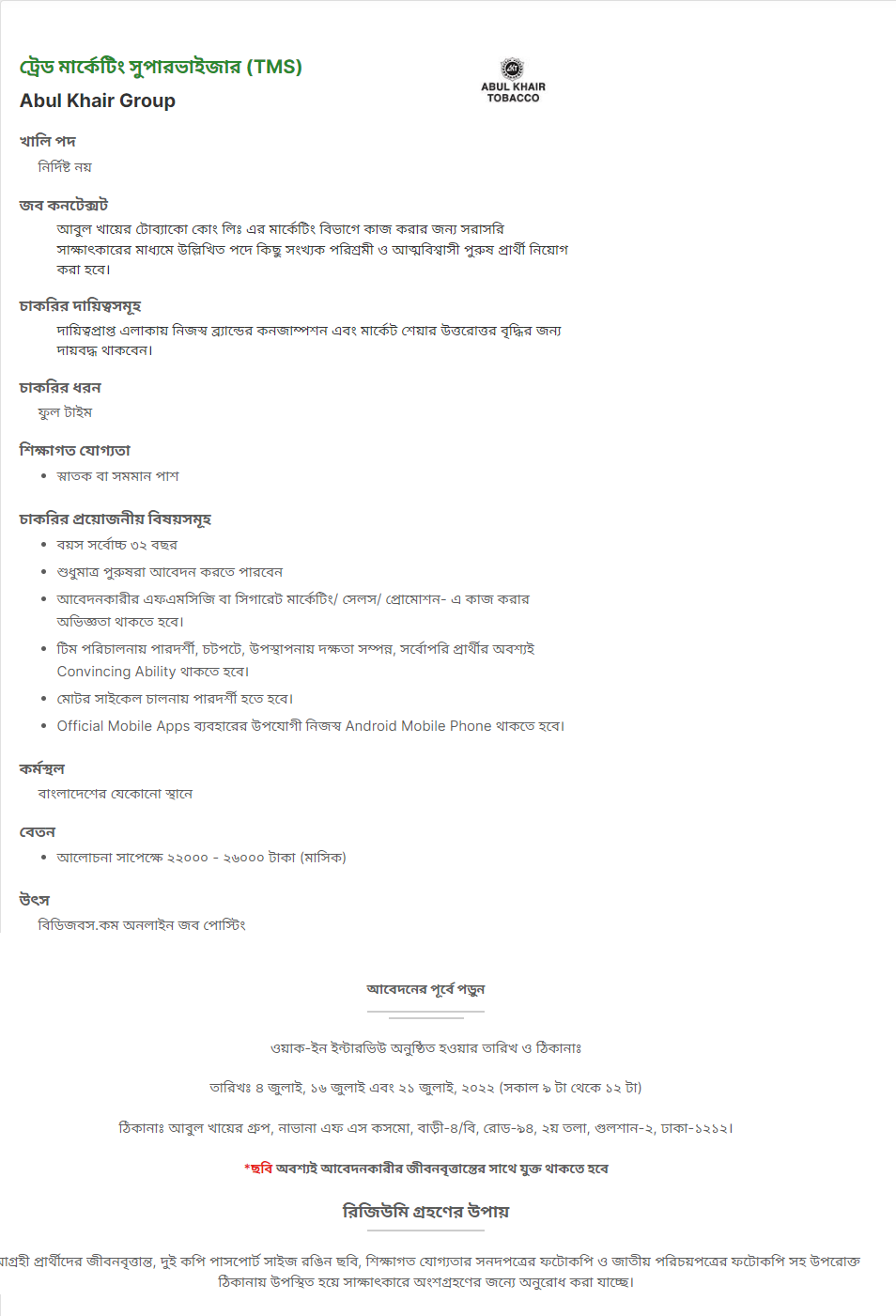 Walk-In-Interview: 04,16,21 July 2022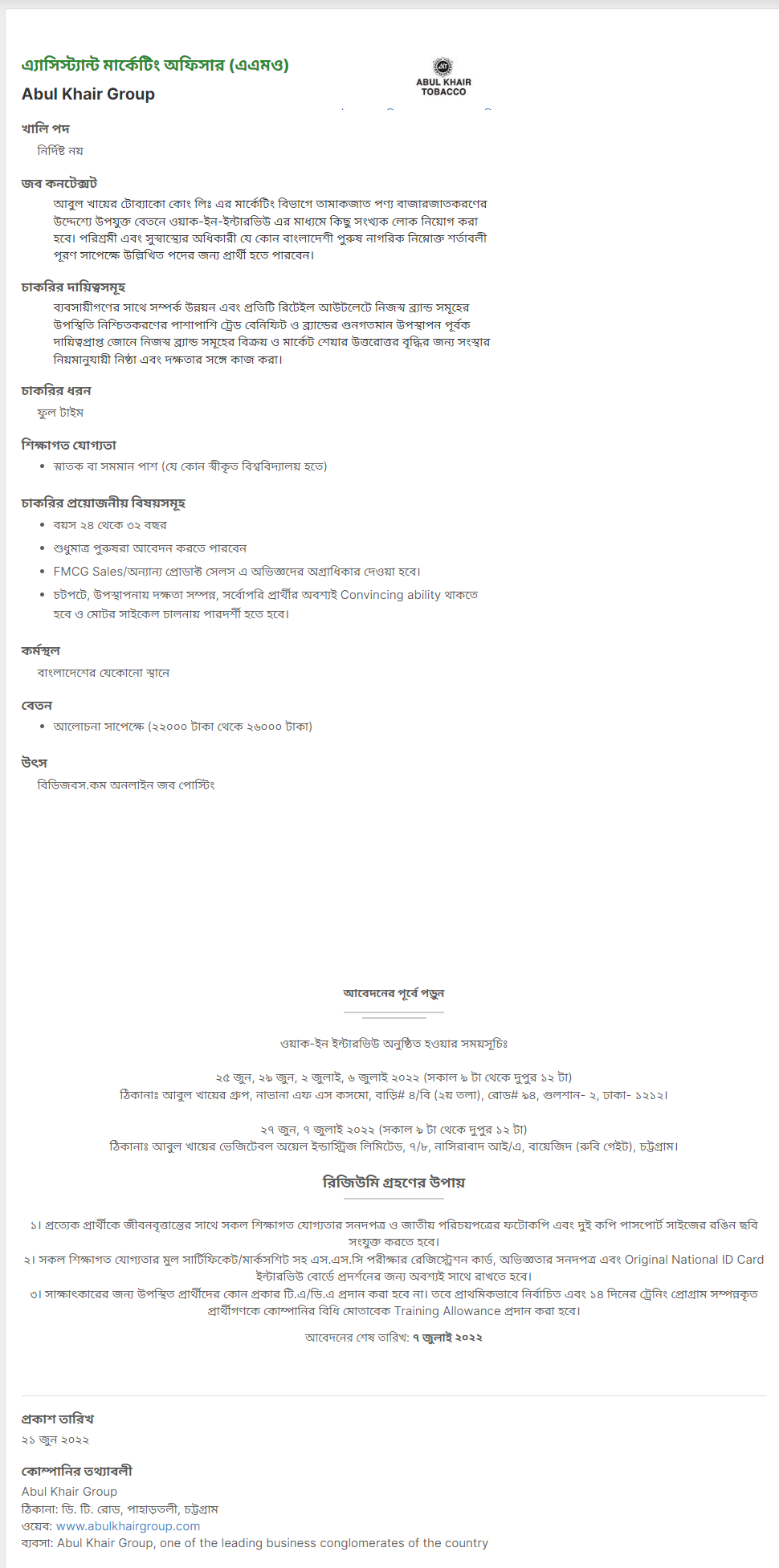 ■ Application Deadline: 30 June to 8 July 2022
Abul Khair Group Job Circular Apply
We hope you have received the Abul Khair Group Job Circular 2022 /PDF and understood all the requirements.
We believe that Abul Khair Group is applying for job circulars after reviewing the 2022 vacancies circular for information on Abul Khair jobs on their official website. www.abulkhairgroup.com. You will find the application process such as e-mail address, Apply button here. We have included company application information and applicant application information. in any case Should you resolve your issue regarding Abul Khair Labor job Circular 2022, please let us know. We have now provided the Abul Khair Group position statement on user data. Below you can find detailed information to help you know about the vacancies and how to apply for them in the Abul Khair 2022 Group – www.abulkhairgroup. .com However, HSC Pass, SSC Pass, 8th Pass, MBA Pass, BSC Engineer, Diploma Engineer, Graduate Pass students can apply for No Doubt jobs. Career abul khair Group is the best private job news for everyone. If you think you are suitable for this position. The application process is then sent to the district.
Abul Khair Group New Job Circular Requirements
If you want to apply for the new Abul Khair Group Job Circular 2022, you need to know the Abul Khair Group job vacancies news requirements below. Job, job type, job level, training requirements,
For example, submitting an application Experience requirements Additional job requirements, salary, age restrictions, application deadlines, email, web address, physical address, job source, and more.
Let's review the requirements of the Abul Khair 2022 Group Labor Circular and apply before the deadline.