BHTPA Job Circular 2022 has been published on bhtpa.teletalk.com.bd. and on our website bdgovtservice.org. Bangladesh Hi-Tech Park Authority recently announced a new job vacancy. This is good news for job seekers in Bangladesh. Bangladesh High Technology Parks Authority (BHTPA) is a government agency.
BHTPA was established in 2010, so it is an old organization. So they need more jobs. Job descriptions for assistant engineers at High Technology Park were released today. So if you are building your career in Bangladesh Hi-Tech Park? then join us and read the entire article carefully Because we are going to talk about one of the most prominent positions in BHTPA Job Circular 2022, so don't go.
Hi-Tech Park Job Circular 2022
Find job information in Bangladesh Hi-Tech Park. and you've come to the right place We share important information about the BHTPA position, useful information for applicants. Everyone should know the details of Bangladesh High Tech Park job circular before looking in order not to make a mistake in decision. Please note that this is a temporary job. So be careful, it's time to apply for BHTPA Job Circular 2022 so don't miss out on this great opportunity. Bangladesh High Technology Park is managed by the Ministry of Information and Communication Technology. Therefore, it is the best choice for applicants.
BHTPA চাকরির বিজ্ঞপ্তি ২০২২
Hi-Tech Park Job Circular 2022 Summary

Job employer
Bangladesh Hi-Tech Park Authority
Job employer type
Govt
Job type
Permanent
Job publish day
21 June 2022
Job news source
Online
Total post
01
Total man
01
Educational qualification
HSC and Degree Pass
Other qualifications and experience
Please view the job advertisement picture
Job apply process
Online
Job applies the start date
22 June 2022 at 10:00 AM
Job application the last date
28 July 2022 at 5:00 PM
Official website
http://bhtpa.gov.bd.
Online apply link
View in the job image
Jobs Posts Name, Vacancy and more
Name Of the Post: Steno Typeist Com Computer Operator.
Total Vacancy: 01
Educational Qualification: HSC or Degree Pass.
Salary: 9,300 to 22,490 Taka.
Salary Grade: 16.
Bangladesh High Tech Park Authority Job Circular 2022 Image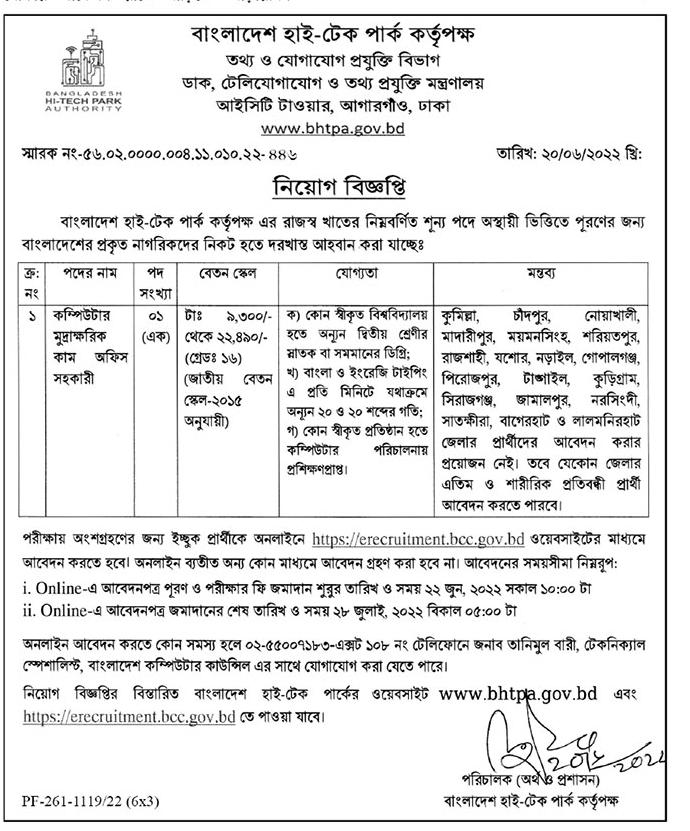 Source: Bangladesh Pratidin, 21 June 2022.
Online Application Start Date: 22 June 2022 at 10:00 AM
Application the last date: 28 July 2022 at 5:00 PM.
Online Application Link: https://erecruitment.bcc.gov.bd
BHTPA Job Application
Currently, the entire process for public circular auctions is available online. This will save the valuable time of the applicants. Also, the applicants can apply easily. Teletalk is under the control of the Bangladeshi authorities. However, all online applications are the same. Even so, we've given you some rules to help. Follow the rules and complete the BHTPA job Circular 2022 application form.
Payment is one of the most important aspects of applying online. So everyone knows their salary. Payment must be made upon request, otherwise your request will not be successful. So don't forget to pay the membership fee. The Bhtpa payment order status for 2022 is shown below.
BHTPA Job circular 2022 Apply
First, open the message option on your device, then enter your BHTPA <Space> USER ID and send 16222. Second, you will receive a PIN, then enter your BHTPA <Space> PIN and send 16222. This is fine. Your payment was successful, your BHTPA access card is now available for download. When Bangladesh Hi-Tech Park Authority announces the exam date and time You can then download your BHTPA exam card until he is with us.
Last Words
bdgovtservice.org is one of the best education and employment news portal in Bangladesh. This is a popular website for anyone looking for a job. So their first choice is bdgovtservice.org, however, we appreciate your smile. If the applicant gives us a good comment And we are impressed. However, please support us and visit our website regularly. Thank you for your time.