HEED Bangladesh NGO Job Circular 2022 is available on bdgovtservice.org. Daily online job portal through online media such as official website online job portal and online daily newspapers and on our website BD Jobs Vacancies website www.bdgovtservice.org.
for user understanding We would like to inform you that HEED Bangladesh NGO believes that young and active people are one way for HEED Bangladesh NGO to shine a light on this area. The good news is that the company is just starting to look for new candidates for various positions.
HEED বাংলাদেশ এনজিও চাকরির বিজ্ঞপ্তি ২০২২
So, if you are interested in NGO jobs in Bangladesh, we think HEED Bangladesh NGO Job Circular 2022 is a good choice for job seekers.
for your convenience We have this event with all necessary details such as publication date, job overview, application deadline. Teaching Features application process, etc.
so please let us know and if you think you are suitable for this job Please submit your request in due time.
We believe after reading HEED Bangladesh NGO Job Circular 2022, Apply Now.
HEED Bangladesh NGO Job Information
Company Name:
HEED Bangladesh NGO
Post Name:

District Supervisor (TB Control Program-GFATM)
ড্রাইভার
শাখা হিসাব রক্ষক

Published Date
20 July 2022
Application Deadline
23, 26 July, and 2 August  2022
Number of Vacancies: 
03
How To Apply 
Follow Job Circular Image
Age Limit
Follow Job Circular Image
Educational Qualification
Follow Job Circular Image
Experience Requirements
Follow Job Circular Image
Salary
Negotiable
Job Category
NGO
Job Location
Anywhere in Bangladesh
Job Nature
Full Time
Job Source
Online Newspaper
Other Benefits
 As per Company Policy
নতুন নতুন নিয়োগ পাবেন এখানে
নতুন চাকরির খবর পেতে যুক্ত হন
Company Information
Company Name
HEED Bangladesh
Company Type:
NGO Company
Official Website:
https://heed-bangladesh.com/
HEED Bangladesh NGO Job Circular 2022 Image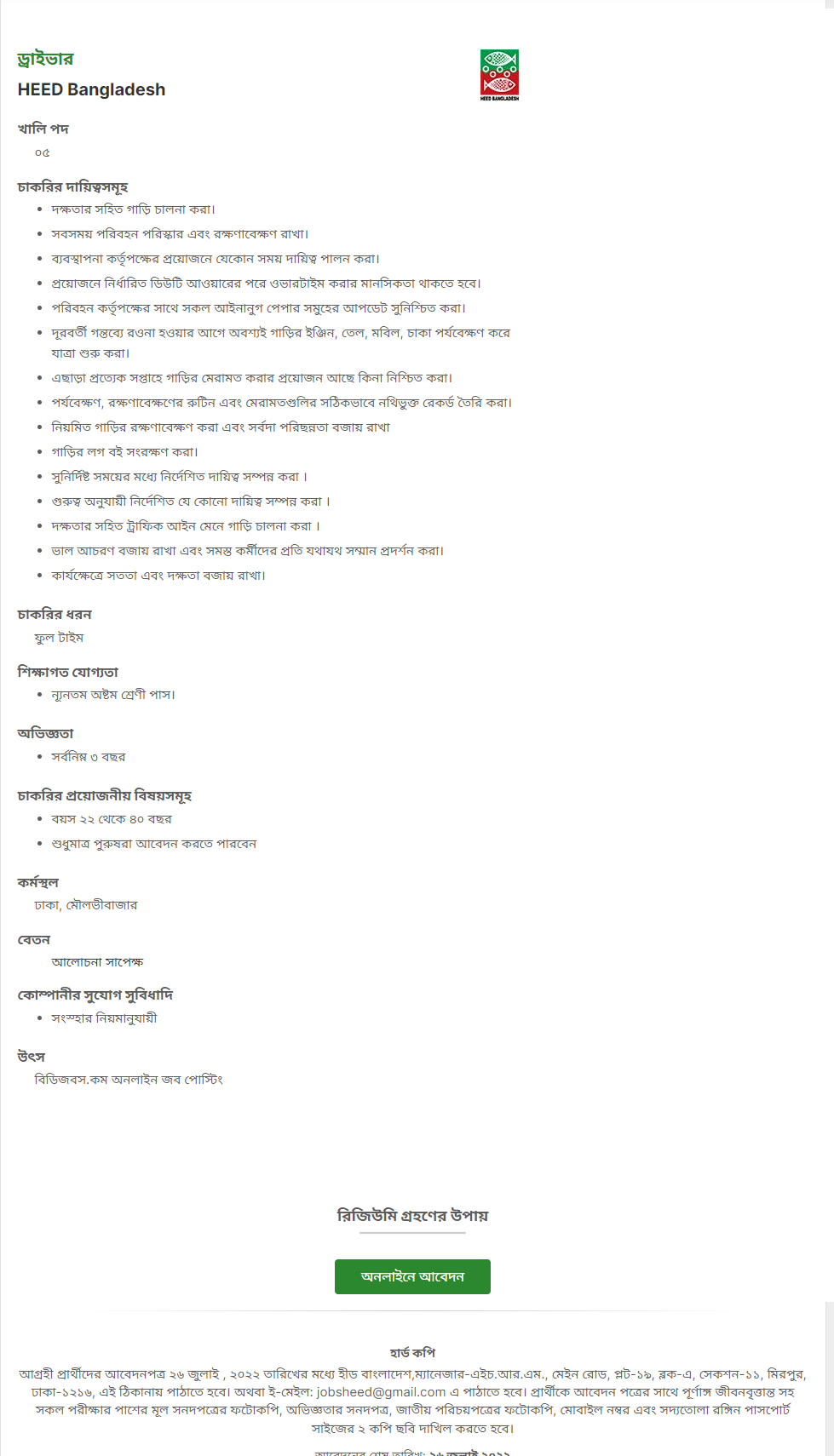 ■ Application Deadline: 23, 26 July, and 2 August  2022
HEED Bangladesh Job Circular 2022 Apply
However, the prospectus information on Manabik Shahajya Sangstha job can be found on the official website: https://heed-bangladesh.com/.
Here you will find the application process such as email address, physical address and apply button. We have also included application information for HEED job Circular 2022 and interview information for applicants.
in any case If you face any problem applying for HEED Bangladesh NGO Job Circular 2022 please let us know.
We believe HEED Bangladesh 2022 is one of the best private NGO development jobs for job seekers. Especially those who are looking for jobs in private civil society companies in Bangladesh.
HEED Bangladesh NGO Job Circular 2022
We have now provided HEED Service Circular application process to Bangladeshi users.
You can find a guide below to help you learn how to apply for the 2022 Leave NGO.
Other, HSC Pass, SSC Pass, 8 Pass, MBA Pass, BSC Engineer, Diploma Engineer, Graduate Pass Students can apply for jobs.
There is no doubt that Bangladeshi Career HEED is the best private job news for everyone. If you think you are eligible to work for an NGO in 2022, please go through the application process for example.
HEED Bangladesh NGO Job Circular Requirements
If you want to apply for HEED Bangladesh NGO Job Circular, you need to know the job posting requirements. Below we have included all requirements along with the job posting date. job description Job Posting Job Category Job Category Job Level Education How to Apply Experience Requirements Additional job requirements, salaries, age limits, deadlines, email, web address, address, job source, and more. Check out the HEED NGO Job Circular 2022 requirements and apply before the deadline.