Partex Star Group Job Circular 2022 is available on the daily online job portal at bdgovtservice.org. Through online media such as the official website online job portal and online every day Like my BD job vacancies website.
For users, Partex Star Group is one of the largest diversified private companies in Bangladesh. The group then, the Parteks Group, met Mr. Torchbearer M.A. in 1962. Hashem, founder and chairman of the Partex Group at the time, was a prominent industrialist in the country.
পারটেক্স স্টার গ্রুপ চাকরির বিজ্ঞপ্তি ২০২২
The Partex Star Group owns and operates 20 manufacturing, service and trading companies that deliver the greatest value to their customers through their products and services.
Partex Star Group New Job Information
Company Name:
Partex Star Group
Post Name:
Officer/Sr. Officer, HR
Published Date
23 June 2022
Application Deadline
4 July 2022
Number of Vacancies: 
01
How To Apply 
 Follow Job Circular Image
Age Limit
 Follow Job Circular Image
Educational Qualification
 Follow Job Circular Image
Experience Requirements
Follow Job Circular Image
Salary
Negotiable
Job Category
Private Company
Job Location
Anywhere in Bangladesh
Job Nature
Full Time
Job Source
BD Jobs
Other Benefits
 As per Company Policy
নতুন নতুন নিয়োগ পাবেন এখানে
নতুন চাকরির খবর পেতে যুক্ত হন
Company Information
Company Name
Partex Star Group
Company Type:
Private
Official Website:
https://partexstargroup.com/
Partex Star Group Job Circular 2022 Image
Our company mainly works in two different fields: durable goods such as various plywood sheets (plywood, plywood, particle board, plywood, PVC sheet), doors and door frames. Furniture for consumer products such as dairy products, biscuits, spices, etc. For the Partex Star Group, please visit our website at www.bdgovtservice.org. For related information
If you want to know all about this event You need to see pictures of Partex Star Group Job Circular 2022. As a result, Partex Star Group Job Circular Pictures for 2022 are attached below.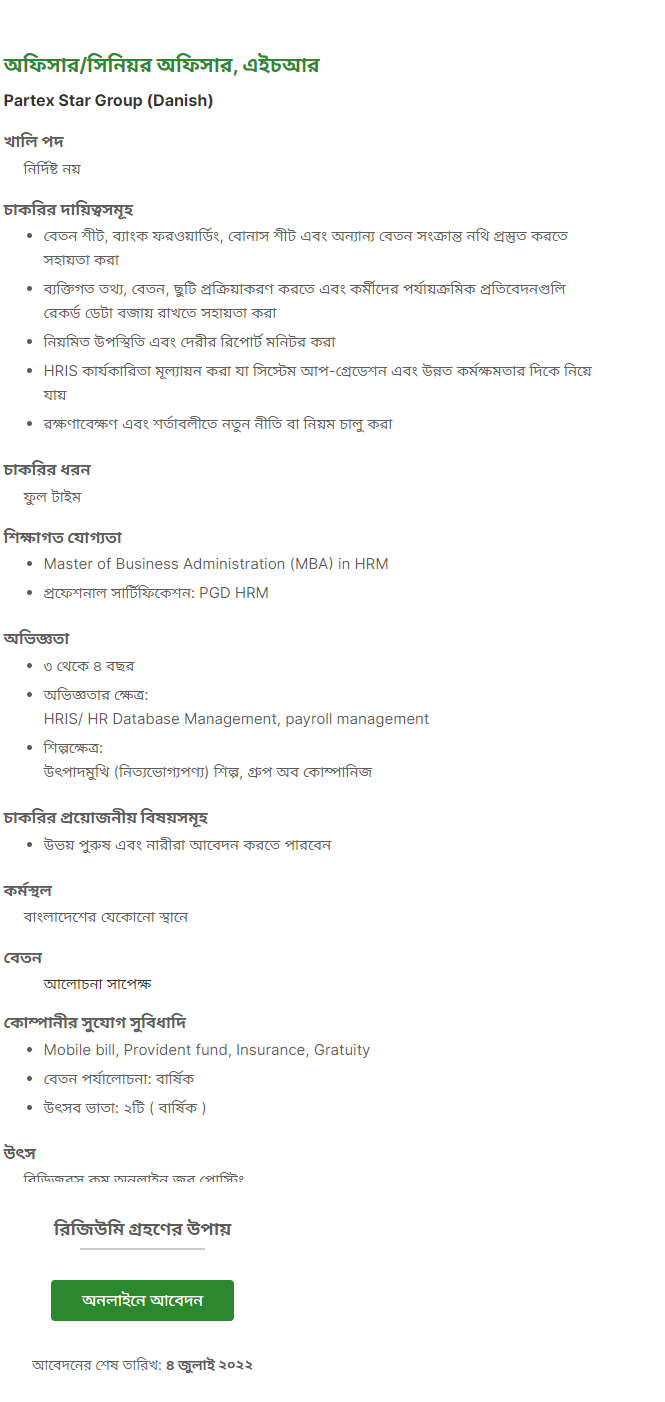 Partex Star Group Job Apply
You will download the image and know all the details of the application. Once you know the details of the application. You will submit the application form before the deadline according to the rules.
We believe you should apply after reading the Partex Star Group Application Circular.
However, you can apply for vacation in the post above the review. And for more information, please visit the official website. https://partexstargroup.com/ to get your app information such as email, physical address.
In any case If you have problems applying for a job, please let us know.
Recent Private Company Job Circular In Bangladesh
To stay up-to-date on government jobs in 2022, follow the BD Job Partex Star Group Job Circular 2022 Careers website – www.bdgovtservice.org. We have posted all kind of job postings including Bangladesh NGO Jobs, All Bangladesh Government Jobs, Bangladesh Government Project Related Jobs, Bangladesh Government Job Posting, Posting. Bangladesh Government Latest Job Posts, Private Company Job Postings in Bangladesh, Bangladesh 2022 Jobs and International Organizations in Bangladesh. International Jobs and Organizations in Bangladesh All Jobs and International NGO in Bangladesh.