SKS Foundation Job Circular 2022 and based on it job openings will be published on online job portals, as well as for display on bdgovtservice.org, the most popular job sharing portal.
We provide all necessary information such as publication date, last post, title, cover image, email address and more. Now that we want to share information about the company with you, let's read.
The SKS Foundation is a non-governmental, non-political, non-profit and humanitarian organization. It was established on December 1, 1987. The company is currently recruiting new candidates, you can view the information below and apply.
Short Summary Of SKS Foundation Job Circular 2022
Organization Name: SKS Foundation
Post Position: Area Manager, Branch Manager, Journal Officer, Accountant, Filed Officer, and Traning Field Officer
Published Date: 16 September  2022
Application Start Date: 16 September 2022
Total Vacancies: 177 Post
Application Deadline: 24 September 2022
Salary: Negotiable
Jobs Category: NGO Jobs
 Job Location: Anywhere in Bangladesh.
Gender: Both( males and females can apply)
Job Source: Newspaper Jobs
Application Process: Online
How to Apply: Follow Job Circular Image
SKS Foundation New Job Circular Requirements
If you want to apply for the new SKS Foundation Job Circular 2022, you need to know the requirements of NGO Employment News; Below we have included all the necessary information, including jobs, positions, benefits, educational requirements, application methods, special requirements, salary, application deadlines, etc.
Then let's take a look at the requirements of the SKS Foundation Job Circular. Apply in 2022 – www.sks-bd.org and apply before the deadline.
SKS Foundation Job Circular Image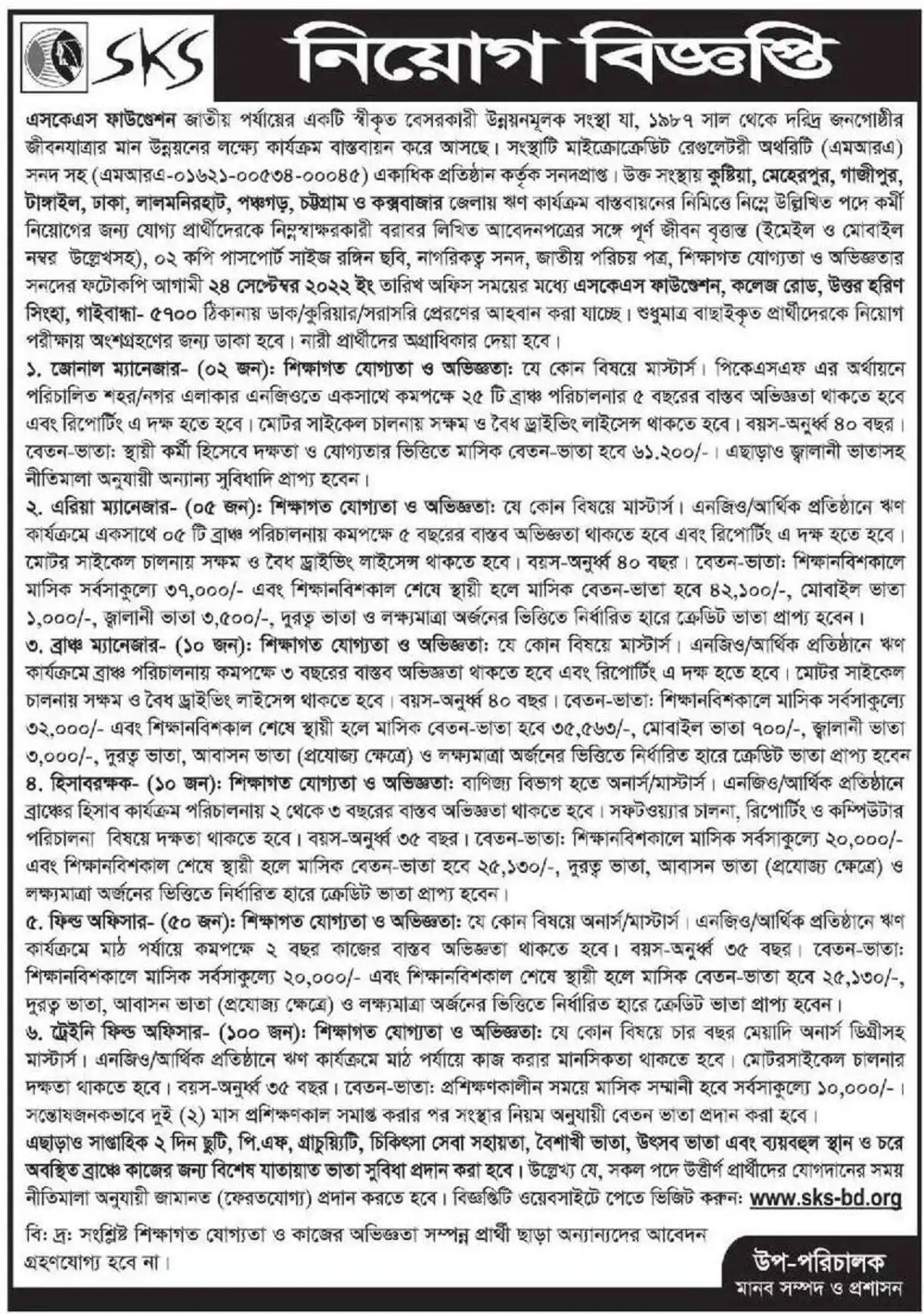 ■ Application Deadline: 24 September 2022
Job Source: Prothom Alo, 16 Septemberer 2022
এসকেএস ফাউন্ডেশন চাকরির বিজ্ঞপ্তি ২০২২
We believe that SKS Foundation Job 2022 is the best NGO Development Jobs news for job seekers especially those who are looking for a new civilian job seeker from Bangladesh.
We are currently providing all user information for SKS Foundation Jobs in Bangladesh. Below you will find useful information about the position and how to apply for an SKS Foundation position.
However, HSC, SSC, MBA, Engineering and Postgraduate candidates can apply for NGO jobs.
There is no doubt that the SKS Foundation is the best proprietary business information for everyone. If you think you qualify for an employment declaration from an NGO. Submit your application after the application process.
SKS Foundation Job Circular Apply in 2022
After studying the SKS Foundation Bangladesh Job Circular 2022, we think you should apply for this job.
However, see the application form in the photo section of the post above. and if you want to know more Go to the official website at https://www.sks-bd.org where you will be notified to apply. We heard there's an email at the right address.
However, if you encounter any issues with SKS Foundation NGO job Circular 2022, please let us know.
SKS Foundation Job Circular Application Form
The vacancies of the SKS Foundation are available in our website. SKS Foundation Job Circular provides additional information about the various employment opportunities within the company. It also offers many benefits and rewards. Job descriptions can be found on the company's website or on the online application form. If you have SKS Foundation Application Form 2022, check out our post and visit the official website at https://www.sks-bd.org.