TMSS Job Circular 2022 has been released. This is a great opportunity for unemployed TMSS Job Circular 2022 is the most popular NGO jobs in Bangladesh. For TMSS job information, please visit our website: bdgovtservice.org. Many people wanted to job in the private sector. At this stage, TMSS created opportunities for the unemployed people.
TMSS believes that young and energetic people are the key to success in this industry. TMSS provides people with exciting career opportunities. Education is very important for this job. Everyone can take advantage of this opportunity, TMSS Job Circular 2022 has been converted to image file so that anyone can easily read or download this circular. Apply for job,  Submit your application within the given time frame. Below is the TMSS job for 2022.
TMSS চাকরির বিজ্ঞপ্তি ২০২২
TMSS NGO is Bangladesh National Social Development NGO. The good news is that NGO are recently looking for new employees to fill vacancies within the organization.
You can see all the details and think you are a good fit for this job hoping you get an international job or NGO. Apply NOW!!
TMSS Job Circular Information
Company Name:
Thengamara Mohila Sabuj Sangha
Post Name:

Senior Supervisor
Field Supervisor
কো-অর্ডিনেটর ‍and More.

Published Date
29 June 2022
Application Deadline
05 and 14 July 2022
Number of Vacancies: 
150
How To Apply 
Follow Job Circular Image
Age Limit
Follow Job Circular Image
Educational Qualification
Follow Job Circular Image
Experience Requirements
Follow Job Circular Image
Salary
23,976,25,000/- 27,332/- 36,300/-
Job Category
NGO Company
Job Location
Anywhere in Bangladesh
Job Nature
Full Time
Job Source
Online Newspaper
Other Benefits
 As per Company Policy
নতুন নতুন নিয়োগ পাবেন এখানে
নতুন চাকরির খবর পেতে যুক্ত হন
Company Information
Company Name
TMSS
Company Type:
NGO
Official Website:
www.tmss-bd.org
TMSS Job Circular Image/ PDF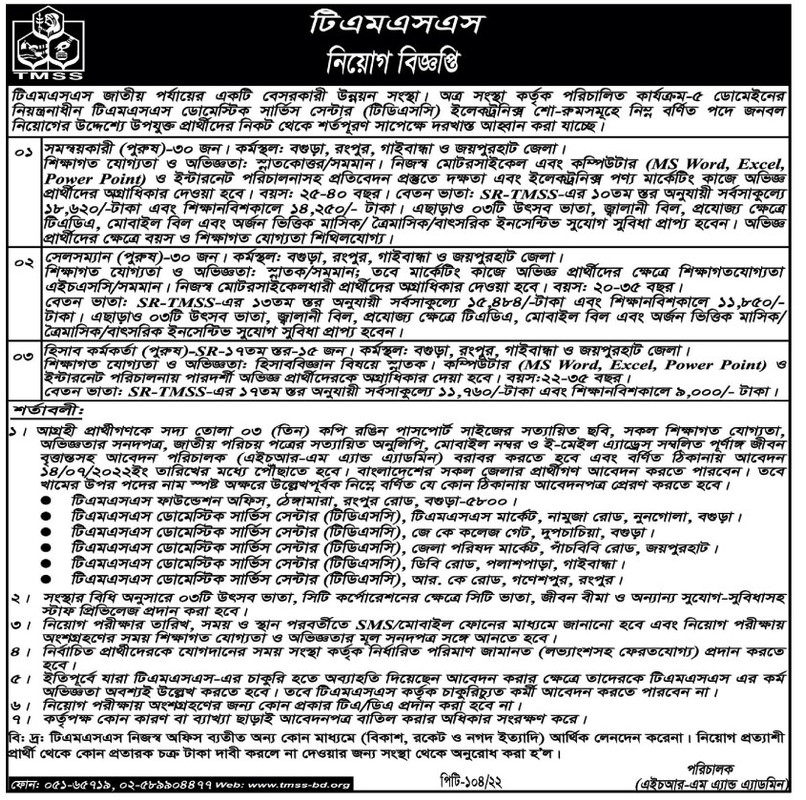 Job Source: Karatoa, 29 June 2022
Application Deadline: 14 July 2022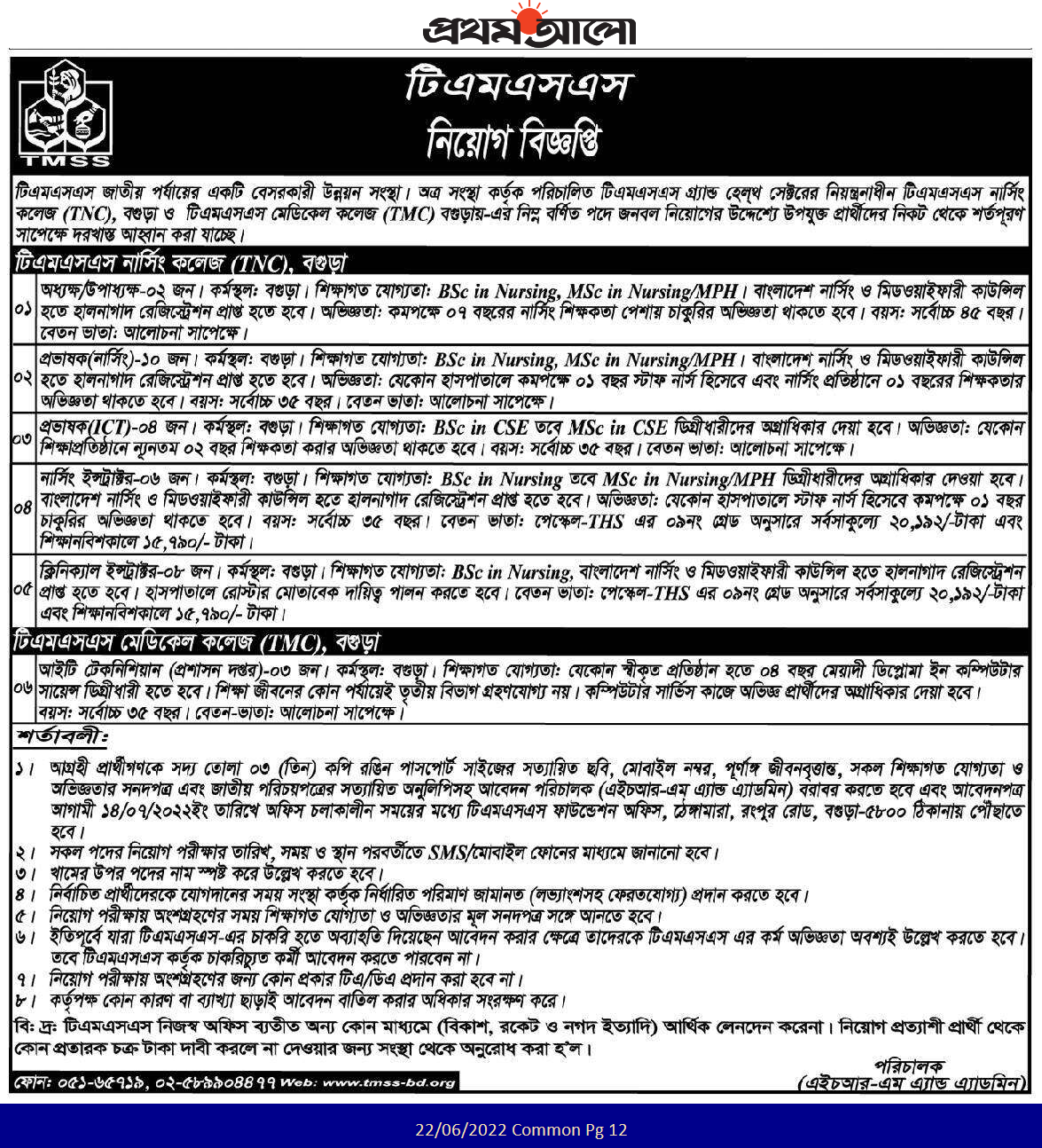 ■ Application Deadline: 14 July 2022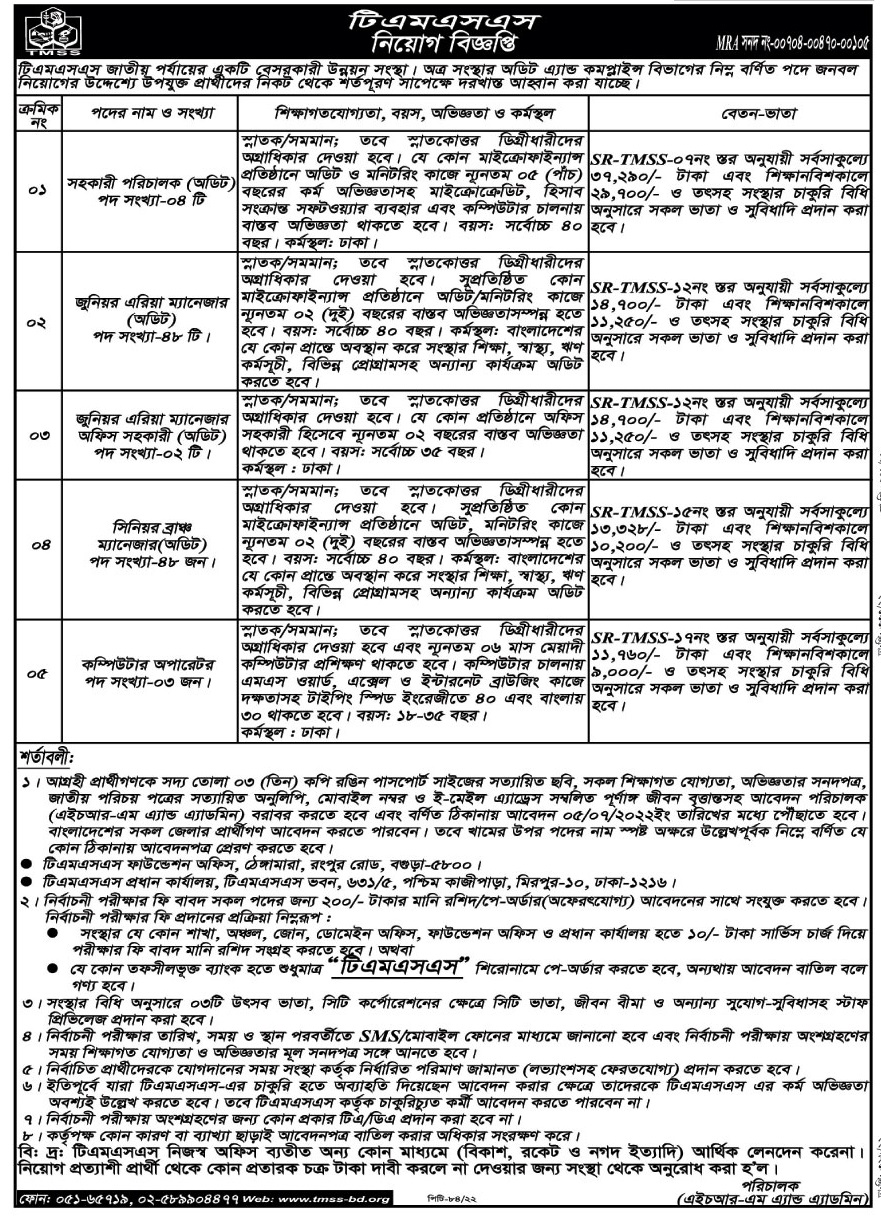 ■ Application Deadline: 05 July 2022
TMSS Medical College Job Circular 2022
Thengamara Mohila Sabuj Sangha Job Circular 2022
We believe that TMSS Job Vacancy Circular 2022 is the best citizen development job posting news for job seekers. Especially for those who are looking for NGO Job Seekers in Bangladesh, we have now provided all the information to users in the TMSS Job Circular 2022. How to Apply for TMSS NGO Job Circular 2022- www.tmss-bd.org and application process, HSC Pass, SSC Pass, 8th Pass, MBA Pass , BSC about engineering, graduate school, graduate students can apply for positions in NGO. TMSS Careers is the best private job for everyone by no doubt If you think you are a good fit for a TMSS position, go to for example. Submit your application by following the application process.
TMSS NGO New Job Circular Requirements
If you want to apply for TMSS Job circular 2022, you need to know the NGO Job Posting Requirements below. We have attached all the requirements along with Job Date, Title, Position, Title, Title, Position. Level, Education Requirements, Application. Experience requirements Additional job requirements, salaries, age restrictions, deadlines, email, web address, physical address, job source, and more. Review the TMSS Job Circular 2022 – Terms www.tmss-bd.org. and apply before the deadline.
TMSS NGO Job Circular Apply
We believe you should apply after reviewing the TMSS Job Circular documentation. However, to apply for a job in TMSS, please see the letter merge above. and if you want to know more. Please go to the official website www.tmss-bd.org. Here you will find application information such as email address, use the button . We have included company application information and applicant application information. in any case If you encounter any issues related to TMSS 2022, please let us know.