US Embassy Job Circular 2022 has been is published by the job search agency on the official website. You can view international leave requirements for circular vacancies by occupation of a specific bd job with all details like publication date, application deadline, how to apply, etc.
US Embassy job Circular 2022: Are you Looking for a job? Today we will discuss the position of the US Embassy 2022 on our website and share relevant information with you. We always strive to provide accurate and reliable information! Full information on vacancies can be found in the table below.
মার্কিন দূতাবাসের চাকরির বিজ্ঞপ্তি ২০২২
Bangladesh US Embassy Job Information
Company Name:
Bangladesh US Embassy
Post Name:
Various Position
Published Date
17 June 2022
Application Deadline
21 and 29 June 2022
Number of Vacancies: 
02
How To Apply 
 Follow Job Circular Image
Age Limit
 Follow Job Circular Image
Educational Qualification
 Follow Job Circular Image
Experience Requirements
Follow Job Circular Image
Salary
Negotiable
Job Category
Embassy Job
Job Location
Anywhere in Bangladesh
Job Nature
Full Time
Job Source
 Newspaper
Other Benefits
 As per Company Policy
নতুন নতুন নিয়োগ পাবেন এখানে
নতুন চাকরির খবর পেতে যুক্ত হন
Company Information
Company Name
US Embassy
Company Type:
International
Official Website:
https://bd.usembassy.gov/
US Embassy Job Circular Image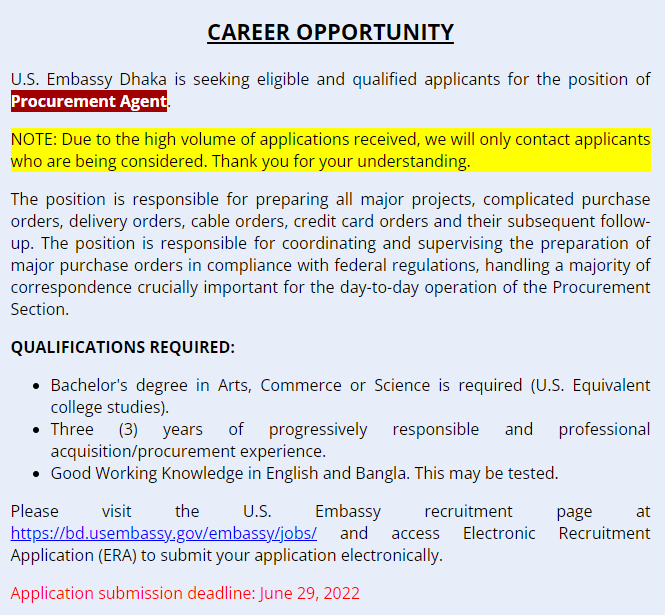 Application Deadline: 29 June 2022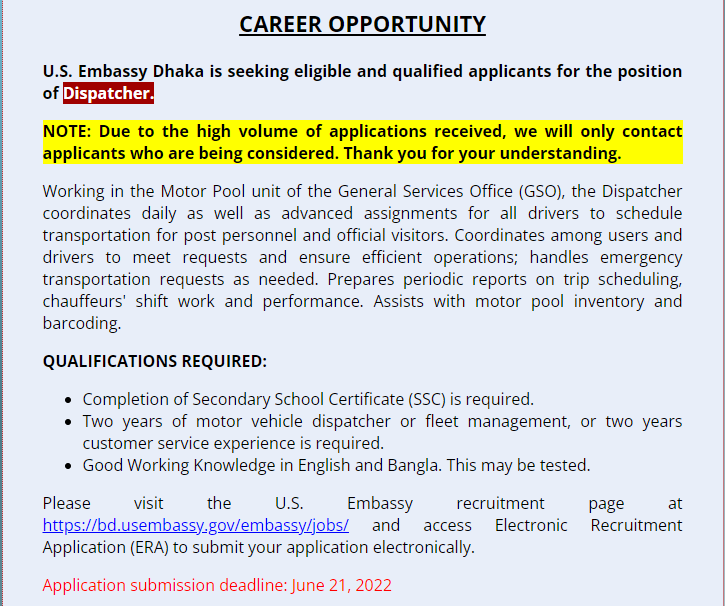 Application Deadline: 21 June 2022
US Embassy Job Circular 2022 Details
We are now sharing all the details about the US Embassy job information 2022. We have organized it all below so that you can easily get the clear information. If you want more vacancies such as Government jobs, Banking jobs, Private jobs, Military jobs etc, you can check our category. We update the latest job postings on our website daily. So let us know the details of the circulars.
US Embassy Job Circular 2022 Regularly recruit employees to their organizations/companies. Getting the job done is very important before finding that job. We recommend that you double-check this site name before submitting or rewriting it.
Educational Qualifications and Experiences
Did you notice the name of the job? To get a job, you must qualify as a teacher with a vacancy period. See the teaching eligibility requirements below.
Salary Range
Salary ranges are determined by employment and other factors such as company policies. The salary for the position is negotiable.
US Embassy Job Circular Apply
for your support We have divided the US Embassy Job Circular into several criteria. The first section is decorated with company information and the last section is decorated with job information.
Thank you all for visiting our website! For all educational information Please visit our website first. We publish educational information every day. as well as performance reports, results, procedures, employee data, orders, success stories. and important information on a daily basis.